Apple (AAPL) Bargain at $90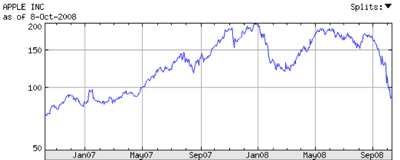 I just shifted half my portfolio into Apple (AAPL). I think it's a bargain at this price, why? Simple…
It was $90 pre-iPhone.
That's right, AAPL was hovering around $80 before MacWorld 2007, where the iPhone was announced. What's happened since then? Apple has launched 2 versions of the iPhone in 50+ countries and essentially created an entirely new business for themselves with the AppStore.
They've also hit a record high in PC market share (~8%) and that will only continue to grow as the iPhone's halo effect continues.
We'll see how much of a fool I look like in a year…